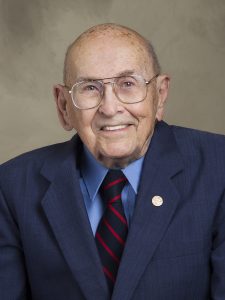 East Ridge at Cutler Bay, a life plan community, is proud to announce that a cherished resident, Larry Adams is receiving a great honor for his lifetime of hard work and altruism. Adams has been named a recipient of the Malcolm Baldrige Foundation Leadership Excellence Award in Business,
"We're thrilled when we learn what talented, accomplished individuals have chosen to live at East Ridge," said Mary Scott Russell, Director of Community Relations for East Ridge at Cutler Bay. "When honors are bestowed upon one of our residents, it reflects upon our entire community. Mr. and Mrs. Adams have been very involved at East Ridge and have made many contributions to the community."
At 93 years young and mentally sharp as a tack, Adams is modest about his tremendous accomplishments.
He credits his stint playing baseball at University of Miami following his service during World War II with laying the foundation for his career. One day as he stepped off of the playing field, he met someone who offered him a summer job at Florida Power & Light. He never left the company until retirement in 1991. His career started out digging ditches and climbing poles, and eventually he became on the company's youngest vice presidents at that time.
Adams was instrumental in developing and deploying the Malcolm Baldrige Foundation along with their National Quality Award program. This was done at a time when he was working as Vice President and General Manager of the Southern Division of Dade County for FP&L along with serving as the Chairman of the Greater Miami Chamber of Commerce and Chair of the Orange Bowl committee.
"I have no ego," he quipped when discussing the upcoming awards ceremony. "I was blessed to play baseball at UM, as it took me to FPL and beyond that, enabling me to apply my skills to serve my country. I'm gratified that I had the ability to contribute what I could so that so many people could enjoy the benefits."
Established by Congress in 1987, The Malcolm Baldrige Foundation National Quality Award is presented annually as part of the Baldrige Performance Excellence Program, an initiative of the National Institute of Standards and Technology (NIST), an agency of the U.S. Department of Commerce. The mission of the Baldrige Foundation is to ensure the long-term financial growth and viability of the nation, and to support organizational performance excellence in this country and around the world. This is done mainly by promoting efficient business management techniques that raise efficiency in every sector of the economy. Traditionally, the award is presented personally by the President of the United States.
Past award recipients from across the country have included hospitals; schools and school districts; municipalities such as Fort Collins, Colo., Irving, Texas and Coral Springs, Fla.; financial leaders such as PricewaterhouseCoopers and Merrill Lynch; hospitality companies such as Ritz-Carlton Hotels; and technology companies like Lockheed Martin, Boeing Aerospace, Motorola, Xerox, AT&T and 3M.
A multi-award winner himself, Adams says he always applies a dynamic process to any of his projects, where there is constant critiquing and striving to "do it better." In fact, a condition of accepting the Baldrige award is the commitment by the recipient to mentor another company or institution to help improve their business practices.
It's all about "paying it forward," Adams added.
About East Ridge at Cutler Bay
East Ridge at Cutler Bay is Miami-Dade County's only true life care retirement community. The not-for-profit community draws from the neighborhood charm of suburban Cutler Bay and the vibrancy of Miami in a lush tropical setting of 76 acres, located at 19301 S.W. 87th Avenue. The community offers a continuum of care including independent and assisted living apartment homes in a neighborhood setting, respite and skilled nursing care, and rehabilitation services available within Three Palms Health Center. For more information or to schedule a tour, please call (305) 256-3564 or visit www.EastRidgeAtCutlerBay.com.