Miami Area Retirement Living in Cutler Bay, FL
Who we are
We're a nonprofit Life Plan Community in Cutler Bay, south of the city of Miami in Miami-Dade County, Florida. Founded in 1962, our 76-acre community offers independent living in a true neighborhood setting, along with assisted living, memory support and skilled nursing available under one roof. We're greater Miami's only true Life Plan Community offering LifeCare.
Our nonprofit sponsor is SantaFe Senior Living (SFSL). Its sister companies are Haven Hospice and AvMed. The parent company for these companies is SantaFe HealthCare.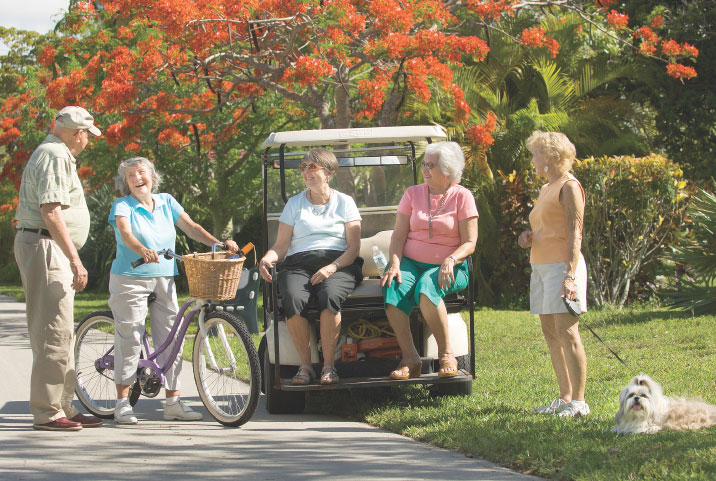 About SantaFe HealthCare
SantaFe HealthCare is the parent company of SFSL. It was formed in the early 1980s as a group of community hospitals and physicians' practices. In 1986 it acquired AvMed, and in 1990 it acquired The Village at Gainesville, north Florida's premier rental retirement community. In 1996, SantaFe divested its hospitals to focus on its growing health plan, hospice and retirement communities.
About SantaFe Senior Living
SantaFe Senior Living creates communities that provide seniors with a continuum of services and care options as their needs change. In addition to East Ridge at Cutler Bay, SantaFe Senior Living is also the sponsor of The Terraces at Bonita Springs (FL) and The Village at Gainesville (FL).
The Nonprofit Advantage
Being a nonprofit senior living community means we're able to manage our financial resources in accordance with our mission, and our long-standing values are reflected in our governance and management. Everything you pay goes toward continually enhancing your lifestyle and our overall community.
Our Mission, Vision and Values
We share our mission, vision and values with our sister communities.
Our collective mission is to enrich the life of each senior we serve.
Our vision is to be the trusted choice for seniors.
And our values are clear: we strive every day to be Collaborative, Accountable, Respectful, Ethical and Service-driven. That means we'll do whatever we can to make a positive difference in the lives of all those we serve.
East Ridge at Cutler Bay CARES.
Discover why we say, "Revive. Relax. Rediscover." Contact us today to schedule a personal appointment.