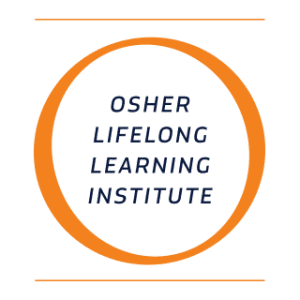 Through a new partnership with the University of Miami's Osher Lifelong Learning Institute, new opportunities for continuing education are available to East Ridge residents.
"We are thrilled to introduce this program to East Ridge," said Kiyria Jimenez, Director of Community Life.  "The first lectures were held in November and the response was extremely positive."
According to resident Cynthia Kay, who initially was reluctant to attend a 90-minute lecture, she found the Osher lectures with Armando Droulers simply wonderful.
"It's been a long time since I graduated college, and the word 'lecture' was daunting," she explained. "But the November lectures were simply delightful and the presenter was a genius in storytelling and enraptured the audience. He enthralled us with a presentation that offered commentary about artists, their influences and the social, political and economic context in which their art was created. It was educational but not academic."
The Osher classes will now be offered on a regular basis at East Ridge and residents can enjoy sharing these experiences with their neighbors.
"It's an added value bringing these to the community because not only do residents find these classes thought-provoking, they spark great discussions after the presentation," added Jimenez. " Exploring subjects outside the norm is very stimulating, coupled with the convenience of having these available without leaving East Ridge."
The maintenance-free lifestyle found at the life plan community means residents have much more time to pursue new interests, develop hobbies and volunteer. Having the Osher classes now available adds to their expanded opportunities.  "
"Having these educational opportunities available is wonderful," said Kay. "You don't have to drive anywhere and this is right outside our door."
In December, Daniel Rivera is the instructor and his lectures focus on the Middle East, North and Central America and foreign policy and current conflicts.
About East Ridge at Cutler Bay
East Ridge at Cutler Bay is Miami-Dade County's only true life care retirement community. The not-for-profit community draws from the neighborhood charm of suburban Cutler Bay and the vibrancy of Miami in a lush tropical setting of 76 acres, located at 19301 S.W. 87th Avenue.  The community offers a continuum of care including independent and assisted living residence homes in a neighborhood setting, respite and skilled nursing care, and rehabilitation services available within Three Palms Health Center.  For more information or to schedule a tour, please call or visit (305) 256-3564 www.EastRidgeAtCutlerBay.com.