Being creative is not just a hobby for Ana Maria Gonzalez; it's a way of life.
For more than 30 years, she's enjoyed creating paintings, ceramics, and other forms of art. A couple of years ago, she decided to harness that passion and began teaching ceramics to her neighbors at East Ridge at Cutler Bay retirement community – and they're loving it. 
"It's been rewarding to me to see my neighbors put their hearts and souls into their work," Gonzalez said. "Our classes are a very social time for everyone to share, and it's been very therapeutic for many of us, especially following the pandemic."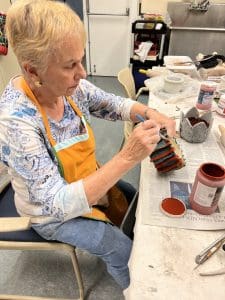 Many of them had never touched clay before, but you would never know that while looking at their art that was on display at a Miami, FL, art exhibit. 
The art show took place at DGabay LLC Art Gallery in March 2023. Some of the pieces on display included residents' creations of bowls, flowers, and even a sculpture of Frida Kahlo, the famous Mexican painter. 
"When I brought the idea to host this exhibit to the owner of the studio, she was amazed that seniors were able to create such beautiful works of art. Even more amazing is that many of these people just learned how to do this," Gonzalez said.
The ceramics classes at East Ridge were launched as a way for this close-knit group of seniors to enjoy social interactions, stay active, and continue to enhance their mental health. The group of 10 seniors meets every Monday morning at 10. Gonzalez demonstrates how to create a piece of art while the residents mimic her. The entire process takes days as they must wait for the clay to dry. Then they fire up the kiln and finish by glazing their masterpieces.
Studies show active aging and creative arts programming taught at independent living communities like East Ridge can lead to better quality of life and decreased rates of psychological issues in older adults – and it's a wonderful opportunity to learn something new for the seniors of the continuing care retirement community.
"I've lived at East Ridge for four years, and I've enjoyed seeing this ceramics class blossom into a very interesting and engaging activity for my neighbors. It's a wonderful opportunity to learn from one another and enjoy each other's company," Gonzalez said. 
Residents at East Ridge at Cutler Bay find all kinds of ways to stay active and engaged through our Vitality Program – and you can, too. If you're looking for just the right place to enjoy a new hobby or reinvigorate yourself in an old passion, check out what East Ridge has to offer. We'd love to show you our vibrant lifestyle and have you meet our warmhearted team members and residents who help make our community a home you'll love.